Georginio Wijnaldum
Wijnaldum expects Liverpool to seize their Champions League chance in Rome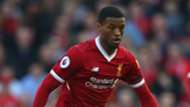 Not many footballers are more laid-back than Gini Wijnaldum, so when the Liverpool midfielder says he hasn't lost a minute's sleep over this week's Champions League semi-final clash with Roma, you can believe him.
"I don't ever have a problem with that," the Dutchman smiles. "I feel good. Relaxed."
He might be in a minority there. Because as the Reds prepare for their date with destiny at the Stadio Olimpico, tension is in the air.
Among the 5000 Liverpudlians who have made the trip, there are nerves, there is trepidation. Concerns over the reception which awaits them from the Giallarossi Ultras is one thing, but the idea of falling short on the pitch is another. Liverpool, within touching distance of the final, have it all to lose.
It shouldn't be this way. Nine minutes from the end of last week's first leg at Anfield, the Reds were bound for Kiev. They led 5-0, they couldn't be stopped. European Cup number six was on.
It still is, of course. Liverpool remain strong favourites to qualify. It's just that this game has been made a little more awkward by their own sloppiness and Roma's two late goals. A 5-2 win in a Champions League semi is excellent by anyone's standards, but it could have been so much better.
"I think we had to be glad at the time," Wijnaldum says. "There was a little bit of disappointment but if someone had said from the beginning would we take a 5-2 win over Rome I think everyone would say yes!
"It's basically like the game against Manchester City, we had three goals in that and we were happy with that so why can't we be happy now?"
He makes a fair point. After all, weren't there similar fears after the first leg of the quarter-final? Liverpool led 3-0 after that, and despite a City onslaught at the Etihad, stood firm to go through with something to spare in the end. They may be entertaining, madcap at times, but Jurgen Klopp's side generally knows how to get results. And with Roma needing to go on the offensive from the word go on Wednesday, it promises to be the kind of contest which will suit the Reds.
"We always have confidence we can score," says Wijnaldum. "That's the way we play.
"We have confidence but every game is different. Some days you don't score but then you have to make sure you don't concede. That is what we have to do."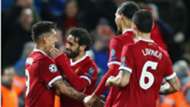 Wijnaldum says he has watched videos of Roma's win over Barcelona in the quarter-finals – both in analysis meetings and privately – and doesn't expect the Serie A side to change their front-foot approach for Liverpool. The Italians' boldness cost them at Anfield, when their three-man defence was terrorised by Mohamed Salah, Roberto Firmino and Sadio Mane, but their comeback against Lionel Messi & Co. offers a reminder, not that it were needed, that the tie is far from over.
"I think it is a warning," Wijnaldum admits. "But I think there was also a warning from us with the way we played against City. We didn't play the game to not concede, to not lose the game, we played to win. That is why we won and that is what we are going to do on Wednesday as well.
"I don't think they will do something different. [Against Barcelona] they showed they didn't change their style, they played with high pressing trying to score goals even when they knew if they conceded a goal it would be more difficult. I think they will do the same against us. "
A pause, and then an ominous word of warning.
"But," he adds. "They have to be aware we have good players up front, players who can score goals."
He can say that again. Liverpool's front three alone have 88 between this season. The Reds are the first team in Champions League history to have three players with eight or more goals in a single season, and they have broken the club record for goals in a European campaign.
A joy to watch, more often than not. What is it like to play in such a side, then?
"It is great!" smiles Wijnaldum "As a player, I have this feeling, and I think every player thinks this, that I am responsible for how my team-mates feel. I just want to do my best and give 100 per cent and if I do that they will feel better and think 'I will give 100%'.
"This is what we have right now. We are really attached to each other and we share the same emotions. We have a really close team."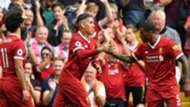 That closeness was seen in the first leg against Roma, when Alex Oxlade-Chamberlain, one of the most popular members of the squad, suffered a serious knee injury.
Wijnaldum was the man to 'profit' from that situation and turned in a fine performance after replacing the England midfielder, but he admits there were mixed feelings.
"It was not difficult to come on, as such," he says. "You are focused and you want to play in the game. You are disappointed to be on the bench and you have to show why you have to play.
"The most difficult thing about coming on was because Ox was injured. You don't wish someone injury, because anyone can be in that situation. I had a situation where I was out for seven months and that was not nice. It was not nice to see Ox's injury and to hear afterwards about his scan. That was difficult for everybody."
Wijnaldum smiles when he is reminded that it was his goal, on the final day of last season against Middlesbrough, which effectively kick-started this Champions League journey for Liverpool. They have come a long way since.
"At the beginning of the season you want to do as well as possible," he says. "We said we will see what we have to deal with and see how far we can come.
"We are now so close that you can go to the final and try to win it but at the beginning of the season, I didn't really think about it. This is my first season in the Champions League and I didn't know what to expect or how difficult it was. Now I see it is a really hard competition to win; you play against really good teams and the further you go the more difficult it is."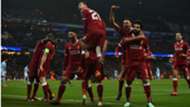 Of his own game, he says he has had to adapt, to think less about himself and more about the team.
"Coming here changed me," he admits. "Now I think I am a more rounded player, I have to do more for the team – but every player still wants to score goals!"
One on Wednesday would write Wijnaldum's name into Anfield folklore, but he says he'd take a boring 0-0 if necessary.
"We just have to deal with the occasion," he grins. Do that, and they can start to dream. Kiev beckons. Can Liverpool seize their moment?