Premier League
When the scoreboard is the biggest liar in the stadium - Man City's dominance deserved a win against Spurs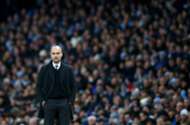 ---
COMMENT
---
Sometimes the scoreboard is the biggest liar in the stadium.
Guardiola insists: I'm never going to give up on Premier League title!
Tottenham may well have come away from the Etihad with a point on Saturday but this was the biggest robbery on British soil since the old gang got back together to knock over the diamond dealers at Hatton Garden.
"Two shots on target, two goals," Pep Guardiola said. "How many chances did we create? Déjà vu."
There is an immediate rush when Manchester City lose or draw a game they shouldn't to ascribe blame to Pep Guardiola. The reputation with which he has come to English football precedes him. It has built him up and every stray result – no matter how unlucky or undeserved – is used to knock him down.
If we are going to blame him for City's ugly performances then we should be praising him for the good ones.
"When we play sh*t, I say we play sh*t," he said. "It's a pity. [The players] don't deserve that."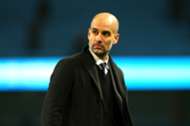 Mauricio Pochettino was almost at a loss in trying to describe how his Spurs team grabbed a share of the spoils. Spurs are the best team in the Premier League – the most consistent, the most fluid and the team with performances most in tune with expectation – but they resembled against City 10 hungover heads herded together on the morning of the game… with the bus driver slung in goal for good measure.
This is the team that has inflicted big damage on Chelsea and City themselves. This is a team boasting a six-match winning streak, the team setting the bar higher than any other team other than Conte's side this season.
The stat that will shame Aguero
Yet look again at what Guardiola's City did to them.
This is where the scoreboard is outed as a liar. It was City's greatest display since they turned Lionel Messi's Barcelona here in November.
"It was one of the best but we'll be judged by the results," offered Pep.
In recent weeks it has appeared that Guardiola has opted to set his team out in more conventional systems. The utilisation of a fairly basic 4-2-3-1 has coincided with his assertions that he has "adapted to the qualities" of his squad. That's a fancy way of saying they are incapable of giving him the kind of football he promulgates.
Well with Spurs coming to town – with the threat they possess - he innovated.
"Always we try to make our [own] game," he said. "Of course we think about a little bit what the opponents do. [But] when I speak with the players it's about what we can do."
Two full-backs and two wide men put paid to the stream of service usually provided by Danny Rose and Kyle Walker. Guardiola loves the England pair – "the best full backs" in England in his opinion – and as such knows just how to counteract them.
Not only did Rose and Walker have quick direct opponents in front of them in Leroy Sane and Raheem Sterling, Sane scored one and Sterling made the other, they then had a pair of adversaries to pass once then got in the City half.
The congestion there on the wings totally choked up the Spurs play everywhere else. Only Mousa Dembele could find room but that was only to turn away from the consistent and waspish City pressing in the midfield.
Without that capability to stretch the game - and force the opposition midfield wide of centre - Spurs could not get going. Mauricio Pochettino – a front-foot coach – was caught in more than two minds. He switched from his original 5-3-1-1 to a 4-3-3 of sorts in an effort to take Guardiola's hand from around his throat. It didn't work.
City's best not good enough to beat Spurs
City went 2-0 up fairly handily but it is still telling that it took two freak mistakes, from arguably the best goalkeeper in the league, for them to get their goals.
For all the quality chances they made, for De Bruyne and Pablo Zabaleta in particular, it was a couple of clangers that put them in the ascendency. That, then, should remain the worry for Pep.
Even with Sergio Aguero, even with Gabriel Jesus – not to mention as dominant a display as the Premier League has seen this season – they could not capitalise on their quality chances.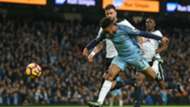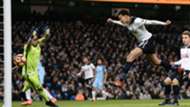 City have thrown a damp blanket over many an opponent this season; an oppressive, but sterile, kind of dominance. They boast the ball but little spark. Here they had everything.
Pep's claim of "déjà vu" checks out in the concession – not just of goals – but of high quality chances. The one time Walker got free he put the ball right on the head of Dele Alli. Heung-min Son swept the ball home soon after for 2-2; slam Bravo all you like but Manuel Neuer crossed with Gigi Buffon would have done well to lay a glove on either chance.  
City should have had a penalty but there is desperation in claiming that was the difference.
"When you score a goal the referee doesn't matter," Pep said. He's right.
They were still a goal ahead at that stage. Harry Kane was offside – ever so marginally – for his flick back to Son on the second goal. But that happens with football played at this level – at this pace. Simply put City should not have the referee to blame and Guardiola sees it that way too.
'Chelsea now have Barcelona's Pedro'
Manchester City imposed themselves on Spurs, who could not cope. Flat on their backs, they had two bullets in the chamber and both went right through the heart.
The fact that it finished 2-2 means that it will rightly be described as the best game of the season. "The game was good because both teams tried to play," said Pep. "When that happens the football is magnificent."
But seeing isn't believing.
It played out like the most routine of 2-0 wins – of which there have been too few for Pep at City.
But the scoreboard is lying.