Arsenal
Wenger 'convinced' that Suarez wanted Arsenal move in 2013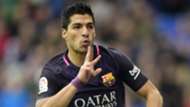 Arsene Wenger is "convinced" that Luis Suarez wanted to join Arsenal a year before leaving Liverpool for Barcelona.
The Gunners famously lodged a bid of £40,000,001 for the Uruguayan in the summer of 2013 in an effort to trigger a release clause.
Messi and Suarez in toilet admission
Liverpool, though, remained unmoved and refused to enter into negotiations with a Premier League rival.
Suarez, though, was eager to make the switch, with the South American looking for a way out of Anfield on the back of a biting incident involving Chelsea defender Branislav Ivanovic.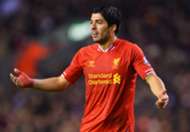 He was eventually convinced to stay put and after enjoying a standout 2013/14 campaign, in which he was named PFA Player of the Year, a big-money transfer was completed to La Liga giants Barcelona.
Wenger, though, insists that Suarez could just as easily have been turning on the style at the Emirates as Camp Nou.
Iwobi: Wenger deserves more respect
He told beIN Sports: "He was very close [to signing for Arsenal]. We had an agreement with the player. We had been wrongly advised that he had a clause, with a minimal clause, but we had an agreement with the player. You can ask him.
"I'm convinced he wanted to join us and then they sold him. They kept him one more year, improved his contract and promised to sell him the year later to a club abroad."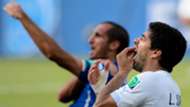 Suarez had been involved in another biting saga by the time he left England for Catalonia – at the 2014 World Cup – but Wenger feels the 30-year-old frontman deserves credit for having put the troubles of his past behind him and focused on becoming a world-class talent.
He added: "It's not normal. You cannot accept that. He had some behaviours that were shocking but I think as well you don't see them anymore since two, three years.
Arsenal's top five teenage stars
"He got rid of all the things that were a handicap for him and today you don't see that anymore. He's still on borderline with what the strikers do well, you know, go down in the penalty box but you want that from an intelligent striker.
"Overall I think he got rid of all the rest and rightly so and he deserved to be punished before and now you don't even expect it anymore from him."​