Premier League
VIDEO: Ranieri puts Kante in a choke hold on Leicester return!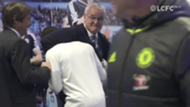 Claudio Ranieri welcomed N'Golo Kante back to Leicester City with open arms on Saturday... unfortunately one of those arms quickly wrapped around his neck to form a choke hold.
The midfielder was returning to the King Power Stadium for the first time since his £30 million summer move to Chelsea, having carried his award-winning form over to Stamford Bridge.
'Kante one of the best in the world'
Kante was a key component of Leicester City's shock Premier League title win under Ranieri, with the Foxes since enduring a worst ever start to a season for reigning champions before losing 3-0 to the favourites to take their crown.
Take in Ranieri's aggressive playful welcome in full below (from 1 min 50 secs):
Marcos Alonso netted twice before Pedro wrapped up another convincing win under Antonio Conte, quickly putting their loss to Tottenham behind them as the cloud of uncertainty regarding Diego Costa's future looms large over the club.
China's lavish spending set for cutbacks
Costa and Conte fell out over the former's complaints of a back problem during the week amid a staggering £576,000-a-week wages offer from China.
The striker attempted to dispel talk of a Chelsea exit with an encouraging Instagram post on Friday night, while Conte played down the reports after the win in Leicester.