Euro 2016
WATCH: More UEFA EURO 2016 First-Timers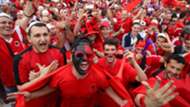 UEFA EURO 2016 is a month of debuts. And few are making history like Albania, who defied the odds to secure qualification for the nation's first ever major international tournament.
The story began back in qualification for World Cup 2014, which Italian coach Gianni De Biasi used as a testing ground for his new team. 
The first hint that something special was on the cards arrived in September 2014 when Albania travelled to Aveiro and shocked the continent by returning with a 1-0 win.
"It was a historic result," said captain Lorik Cana. "I am very happy for my country and for my people…. This victory is for them."
More was to come as victories over Serbia and Armenia secured a UEFA EURO debut.
A fanatical footballing nation, Albania is no longer on the periphery of European football and, while they narrowly went down in their opener to Switzerland, the newcomers did their country proud.
Albania now has a true footballing tradition for future generations. And to celebrate their first time as official UEFA EURO sponsors, SOCAR brought one fan along for the ride of his life.
You could also make your debut at UEFA EURO 2016 by showing your passion in a photo on Twitter or Facebook using the hashtag #MakeYourDebut to win a pair of tickets. There are lots of different match tickets for grabs, so go and enter now!