Malaysia Cup
Wan Zack targeting early goals to help Felda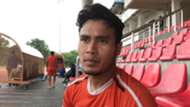 Felda United is on a mission to regain their pride as the team from the Super League when they go up against Premier League's PKNP FC in the quarterfinal second leg of the 2017 Malaysia Cup.
Having gone out of the competition in the same stage last season, The Fighters are redoubling their efforts to ensure that they don't suffer the embarrassment of losing to a team from a lower division.
However the odds are stacked against them after an insipid performance in the first leg meant that they trailed PKNP 1-3 heading into the return fixture. The away goals rule dictate that a 2-0 win at Shah Alam Stadium on Sunday won't be enough to reach the semi-final.
But in Wan Zack Haikal, they have a player in form after the winger turned in a man-of-the-match performance in midweek against Kedah. The 26-year-old scored twice as Felda scalped Kedah at Darul Aman Stadium.
"We will our best to get 3 goals. We need to play more aggresively to get early goals, if possible. Football is over 90 minutes and sometimes there's extra time. But we need to get an early goal to raise our confidence for the match."
"We have already improved on what is needed to face PKNP in this second leg. We'll follow the coach's tactics and hopefully we can reach the semi-final," said Wan Zack to Goal after their final training session on Saturday.
Since moving to Felda prior to the start of the 2017 season, Wan Zack hasn't always produce for the team. At times it was down to poor form and in other times, due to injuries. However the Malaysia national team player is certainly coming into his own at the right time of the season.
Should Felda pull one goal back early in the first half, PKNP players could feel the burden of pressure and buckle. Without the comfort of playing in their home stadium, PKNP has already lost one advantage, they will be hoping Wan Zack and co doesn't make them lose more.