Videos
VIDEO: Reading players' woeful attempts at Irish names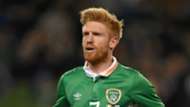 St Patrick's Day is an occasion that is marked around the world as people come together to celebrate Irish culture and not even football can avoid getting caught up in the spirit.
At Reading, the club's Irish captain Paul McShane had some fun on his country's national holiday by challenging his team-mates to pronounce some difficult Irish first names and the results are hilarious!
The Irishman who saved Barcelona
The Royals players struggle to get their heads round the spelling and pronunciation of a host of names that are quite common in Ireland. Some come close, but just not close enough.
Watch the video above to see their hopeless efforts and see if you can better their attempts!