Videos
VIDEO: Karamanos scores sweet heel-flick goal for Feirense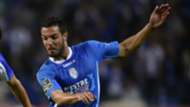 Greek forward Tasos Karamanos opened the scoring in some style for Feirense in Sunday's triumph over Maritimo.
WATCH: Golzao from midfield in Mexico
Just 10 minutes into the contest, Maritamo defenders protested what they felt was a ball out of play, but the referee ruled that Vitor Bruno had kept it in play with a nice spin.
Once he had his bearings he put in a cross, with Karamanos realizing his only chance was using his heel to try to redirect the ball in. And it came off perfectly, with the ball looping over the head of goalkeeper Charles, off the far post and in.
Despite an own goal by Flavio, Tiago Silva's goal from the spot secured the 2-1 victory for Feirense, which moved to eighth in the Primera League table.