United States
U.S. Soccer confirms September friendly with Mexico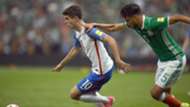 The United States and Mexico will meet in Nashville, Tenn. for a friendly between the two nations in September, U.S. Soccer announced.
The two long-time rivals will meet at Nissan Stadium on September 11 during the first FIFA international break following the 2018 World Cup in Russia.
CONCACAF will be holding qualifying for the confederation's League of Nations tournament during that international window. However, because the USMNT and El Tri both made the six-team final round of 2018 World Cup qualification, the Hexagonal, the two nations are already qualified and had the date free.
Mexico will come in following the 2018 World Cup, which sees El Tri face off against Germany, South Korea and Sweden in Group F.
The USMNT will be continuing its rebuild after missing out on the 2018 World Cup, and has also scheduled fall friendlies against England and Italy in November.
The rivals last squared off during the Hex, with the two nations playing out a 1-1 draw at the Azteca stadium in June 2017. The USMNT lost to 2-1 Mexico in Columbus in November 2016 to begin their ultimately unsuccessful qualification in the Hex.
However, despite the on the field rivalry, the U.S. and Mexico are part of a joint three-nation bid with Canada to host the 2026 World Cup.
The bid, which is competing with Morocco's solo bid, will be decided on June 13 of this year.
Nashville is also the site of one of Major League Soccer's new expansion franchises, which is expected to begin play in 2020. It announced former Liverpool chief executive Ian Ayre to its CEO role on May 21.