U17 World Cup
U17 World Cup: Brazil coach Carlos Amadeu - Goa and Kochi made us feel at home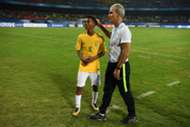 Brazil beat Niger 2-0 on account of two first half goals in their Group D match of the U17 World Cup played at the Jawaharlal Nehru stadium in Goa, on Friday evening. 
Despite scoring early, the coach of the South American side Carlos Amadeu has admitted that they didn't have it all easy against their African opponents.
"Today we could do things that we couldn't do in the other games - score in the opening minutes. So we are a bit relaxed. We tried to score fast in the first half and control the movement in the second half by trying to make an attack on a few occasions," he said.
"Niger were marking man to man which made it difficult for us. They (Niger) tried to score a lot in the second half but our defence was totally solid."
Having played their initial group stage fixtures in Kochi, where they will return to face Japan/Honduras in the Round of 16 on October 18, Amadeu is pleased to play at the two venues.
"The weather here (in Goa) is hot and humid. The players were tired because of this climate and there were many games with a short space between. Now we will have some time to recover and practice," he continued.
"The kinds of support that we got here and in Kochi made us feel at home. It's not something that we are building right now. It comes from what we have built in the past. So we have the responsibility to continue with the history that was built by our players and coaches."
Questioned on the importance of Lincoln, who scored his third goal of the tournament, the Brazil coach has shown confidence even in his bench to deliver the goods.
"We have many players in our forward system. Lincoln, Paulinho, Brenner are giving us a lot in terms of goals and assists. Brenner, for example, didn't score until today but he had two assists. We also have players on our bench who can score.
"Today we had Wesley attacking a lot on the right. Lincoln has a lot of importance but we have to look at the collective group. He has the same importance as the other 20 players," he signed off.