KPL
Tusker part ways with midfielder Brian Osumba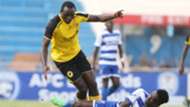 Former Kenyan Premier League champions Tusker FC have parted ways with attacking midfielder Brian Osumba.
The former KCB midfielder was one of the star players for the Brewers, having played an integral part in the team's third-place finish last season.
It, therefore, came as a surprise to many when Tusker let him go, but Coach Robert Matano explained: "We opted to release him because he is not in our plans for next season, and it is not good to keep him on the bench.
"The good thing for us and him is to allow him to get a team that he can play for regularly. It will help him do better and progress to the next level.
"I do not think we will be signing any more players, but if we get a good one why not, it will be a plus to us."
Osumba, who is reportedly set to rejoin KCB, has been replaced by Clyde Senaji, who signed a three-year deal with the Brewers from Thika United.