FELDA United
Tricky ties await JDT and Felda in AFC Cup MD2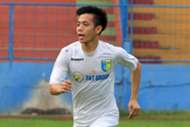 ---
 BY       OOI KIN FAI      Follow on Twitter
---
Johor Darul Ta'zim (JDT) and Felda United resumes their 2017 AFC Cup campaign with tough fixture on Matchday 2 with both sides playing "away from home". 
Safiq Rahim and co are finally in Yangon, Myanmar for a regional competition but this time in the colours of the club side as his JDT side face Magwe FC. Benjamin Mora seemed to have found the right formula for his team even if that formula doesn't involve the likes of Aidil Zafuan and Fazly Mazlan.
Junior Eldstal and Azrif Nasrulhaq are the preferred replacement now but all eyes will again be on youngster Afiq Fazail. It's never easy coming into a star-studded side and perform when the expectations from the stands are high. But Afiq looks to be made of sterner material and has slotted in comfortably, displaying maturity beyond his years.
Magwe opened their AFC Cup campagin with a 1-0 defeat to Philippines' Global FC in the first group match and they will be banking on a fervent home support to pull them through against JDT. If the Suzuki Cup tournament played there last year is any indication, the atmosphere can be daunting to players.
The Burmese side relies on the power of Sylla Sekou up front while national team stalwart, Nanda Kyaw forms a formidable pairing with Oulai Hinako Jean Paul at the heart of the defence. Kyaw's is one to keep an eye for during set pieces.
Officially, Felda are playing at home but Shah Alam Stadium is not Tun Abdul Razak Stadium where the latter is their actual home ground. Restrictions from the organisers meant that a change of stadium was required and thus Felda decided upon the home of PKNS FC.
B. Sathianathan has to ensure that his experience at this level is passed down to the players. It will also be crucial for the likes of Norshahrul Idlan and Hadin Azman to share their knowledge on the opponents, given some are familiar faces they faced in last year's Suzuki Cup tournament.
Nguyen Van Quyet is undoubtedly the start of this Hanoi FC side. A forward who can operate as one of the wide of a front three or as the playmaker in the hole behind the front man, Van Quyet has bags of skills and pace that could reasonably trouble the shaky pairing of Shukor Adan and Mootaz Junaidi.
On top of losing the advantage of being more familiar to artificial turf at the Tun Abdul Razak Stadium, Felda will also go into unchartered territory of playing under the hot evening weather. A difficult fixture made even more difficult by the conditions.