WTF
Trabzonspor make fan clean 10,000 seats after stepping on one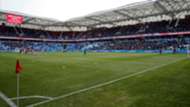 ---
EXTRA TIME
---
When Trabzonspor moved into the new Medical Park Arena last month, they immediately insisted they would take good care of it. Such messages from clubs are usually meaningless, but one fan found out that the Super Lig team are not messing around.
How does Pogba's first season measure up?
At a recent game, the supporter stepped on one of the seats and though he probably thought he got away with it, the club found out about his misdeed on social media.
Appalled by such savage behaviour, they quickly tracked him down and returned him to the scene of the crime. 
The rapscallion was then told to clean each and every seat in the stadium, not stopping until all 10,000 were spotless.
To complete the humiliation, they recorded his punishment and posted it on Twitter, though they stopped short of showing his face and revealing his name.
"Yeni yuvamız" derken şaka yapmıyorduk. İnsan hiç evindeki koltuklara ayakkabılarıyla basar mı? Hemen alır cezasını! :) pic.twitter.com/gv67VOVoSZ

— Trabzonspor Kulübü (@Trabzonspor) March 15, 2017
In the video, the fan says: "My club found me stepping on a seat and punished me by making me wipe 10,000 seats. What we pay for tickets can't buy these seats. This is our property, we must protect it. Trabzonspor belongs to all of us."
It was posted with a warning to all other supporters, with the caption: "We weren't joking when we said 'this is our new home' :) Does you ever step on the seats with their shoes on at home? You get punished immediately! :)".