Stats
The stats that show Buffon is Juventus's key man against Real Madrid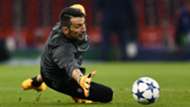 Gianluigi Buffon goes into Saturday's clash against Real Madrid looking to win his first Champions League crown.
The Juventus goalkeeper has won every other major prize the game has to offer and will be the player the Italians look to inspire them to glory in the European decider in Cardiff.
EXCLUSIVE: 
Real Madrid goal offer
The 39-year-old has enjoyed another stellar campaign and his importance has been especially evident on European nights when Juve's defence has looked impregnable at times.
While he works behind a world-class back line, much of Juve's formidable defensive record is due to their goalkeeper, as the Opta's xG model demonstrates. This measures how likely a particular shot is to be scored based on distance to the goal, angle to the goal, assist type, whether or not it was headed and a variety of other factors. This assigns an xG value between 0 and 1 that reflects how likely the shot is to be scored. So, for example, 0.3 xG means a shot will typically be scored 30% of the time.
The overriding team statistic to note is that Juventus' xG Against figure, the number that shows how many goals they would expect to have conceded at this juncture, is a little short of 11, yet they have conceded just three. 
That difference of eight is a big margin, as highlighted by Real Madrid's numbers. Their xG Against total is also smaller than the actual figure, but only by a factor of less than two.
Further highlighting the abilities of Max Allegri's defence is the xG statistic, which shows how strong each side is offensively by calculating how many goals they can expect to score in a game. Of the teams that reached the last 16 stage, Juve were ranked 12th with 1.41, nearly a whole goal down on Madrid, who were fourth with 2.22.
The Italian champions, therefore, have to shine at the back to make up for the shortfall and conceded just 0.91 xG per game – the second-lowest tally.
'Buffon can't beat Ronaldo to Ballon d'Or'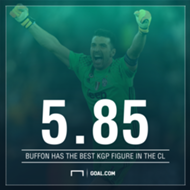 It is, however, the Keeping Goals Prevented (kGP) statistic that really highlights Buffon's contribution to the cause. This figure looks at the quality of the on target shots that a goalkeeper faces and compares that to the goals he's conceded. kGP uses Opta's Expected Goals On Target (xGOT) model – which takes into account the xG value of the shot and its angle and placement within the goalmouth.
The veteran has prevented nearly six goals in the Champions League already this season and ranks first among goalkeepers in this competition in that regard. On the other hand, Keylor Navas, who will start for Madrid, is rated 20th.
If Zinedine Zidane, the boss of the reigning champions, is looking for a route to break his former side then he may target set pieces, which is an area in which Los Blancos have been strong this season. They have scored 0.61 goals per game from dead balls - joint highest in Europe with Monaco - and a solid xG figure in this regard appears more sustainable than Juve's xG Against tally. As a result, this could be their best hope.
All they need to do now, is get past Buffon.