Barcelona
Ter Stegen considered Barcelona exit amid Bravo battle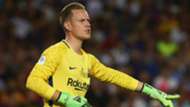 Marc-Andre ter Stegen has revealed that he considered leaving Barcelona amid his battle with Claudio Bravo to earn starting duties at Camp Nou.
The Germany international moved to Catalunya in 2014 after proving his worth in his homeland with Borussia Monchengladbach.
His debut season with Barca saw him fail to make a single La Liga appearance, with cup and Champions League outings providing his only game time.
Ter Stegen did see seven league games in 2015-16, but it was only once Bravo departed for Manchester City that the path cleared for him to become No. 1 and establish a reputation as one of the finest goalkeepers in world football.
The 26-year-old has now admitted that he considered his future at regular intervals when struggling for minutes, telling Club Del Deportista: "It was a situation that cannot be forgotten. As a person who wants to play all the time, like me, it was a very complicated situation. And the competition with Claudio was not easy at all. 
"I will not deny that there were times when I was thinking about changing, looking for solutions, because you see that the club say: 'Do not worry, Marc, you have our confidence, you will be here for many years, we trust in your performance' . But then you see that reality was not like that. 
"With Luis Enrique he talked a lot about it. But of course, he saw that Claudio was also doing a very good job. 
"After two seasons, the situation demanded a solution. In the end, the club sold Bravo and has clearly positioned itself in my favour."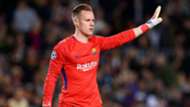 Ter Stegen has now made over 150 appearances for Barca, including 13 in the current campaign.
His next could come in a Clasico clash with Real Madrid on Sunday, with that contest still holding plenty of appeal to those involved despite Lionel Messi set to miss out through injury and Cristiano Ronaldo having departed the Blancos for Juventus.
Ter Stegen added on the challenge posed by fierce rivals who no longer boast a five-time Ballon d'Or winner on their books: "I do not notice a single player. Madrid has very good players, with a lot of individual quality. 
"It is true that Cristiano has scored many goals and has been a very important player for Real Madrid, of course you will notice his departure from the club. You will see how that is solved in the future. 
"The important thing for us is to be focused on ourselves and to make the season as successful as we can, with the great team we have, be better than everyone else and achieve our objectives."