Transfers
Suso: Who wouldn't want Real Madrid interest?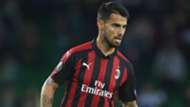 AC Milan winger Suso admits he is flattered by rumoured interest from Real Madrid.
The former Liverpool forward is in glittering form for Milan, having recorded five goals and eight assists in just 15 games in all competitions this season. 
And Suso believes that the links to Los Blancos are proof that he is performing well and that it is normal to be proud of such interest.
"When the best teams in the world are interested in you, it is normal to be proud that things are going well," he said to Radio Marca. 
"Who would not be happy for Real Madrid to be interested in you? To make the jump to one of the biggest teams in the world is always a happy thing."
Suso reiterated his contentment with life in Italy and with Milan despite the links to Madrid, however, reserving particular praise for his club coach Gennaro Gattuso.
"Playing at home [in Spain] is always beautiful, now I am in a country whose culture is very similar to the Spanish one and at the moment I am very happy there.
"I feel important in the team, I am very comfortable, I am happy and I get along quite well with the coach.
"It's like when [Gattuso] played, the intensity he had as a coach has not lost it, when he finishes training he's the nicest and friendliest person you can find, he's the perfect man for the club we're in."
The forward has been called up to the Spain squad with regularity by Luis Enrique since he took over as the head coach of the national team, and Suso is happy to be joined by Barcelona left-back Jordi Alba for the first time in Enrique's tenure.
"The coach knows what he has to do, on this occasion he believes it is fair to bring [Alba] and I am very happy for him. We know he is one of the best."
Spain take on Croatia in the Nations League on Thursday knowing they can seal top spot in the Group with a win.