Premier League
S.League to be rebranded as Singapore Premier League!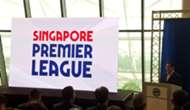 The highest division in Singapore's professional football league system is undergoing a rebranding. 
The S.League, 22 years after its founding, will now be called the Singapore Premier League (SPL). The change of name comes as part of efforts to revive its ailing fortunes, said the Football Association of Singapore (FAS) said. 
"The Singapore Premier League brand brings the local context to the forefront, emphasising that the league is for Singaporeans, by Singaporeans," said FAS president Lim Kia Tong at the logo unveiling held at the Singapore Sports Hub.
"As the only professional sports league in Singapore, the SPL bears the responsibility to set the standard and to be a product that acknowledges the stature of its position in Singapore," he added.
The SPL is also aiming to bring back more fans to the stadiums and also promote local talent by announcing youth quotas for its local teams. The league is also aiming to affiliate schools to clubs in order to build rivalries. 
"When School A is part of a club and School B is also part of a club and they are rivals, they will bring that rivalry over," he said.
"We want to have that feature in our pre-match games where school teams from affiliated clubs will face each other before the actual league match itself. When schools come, their parents, uncles and aunties would come and we want to generate community interest."
Albirex Niigata are the current champions of the SPL.