Iceland
Sigurdsson comes out on top against Alli
Iceland collected perhaps the biggest scalp in Euros history as Gylfi Sigurdsson's Nike Magista sent England's Dele Alli and his adidas Aces packing.
For a nation of little over 300,000, Gylfi and his colleagues had already made history simply by being there in the first place. And if a draw against Cristiano Ronaldo's Portugal and a last-minute victory over Austria in the group stage were cause for celebration, Monday's epic come-from-behind victory over England was one for the ages.
Every emerging football nation needs a poster boy, an idol to replicate, someone to set the standards to which the youth of the nation aspire. A Premier League winner with Chelsea and a European champion with Barcelona, Eidur Gudjohnsen was Iceland's.
But at 37-years-old, the baton has been passed, and Gylfi now sets the bar. The Swansea City star was inspired in Nice, curtailing the more natural elements of his game to run, press, jockey, tackle, hassle, and, perhaps most importantly, inspire.
As England dominated possession, Alli created two chances for his desperate team-mates. Gylfi made none and completed just 79 per cent of his passes compared to Alli's 87, his gifted right foot able to fire off just one shot to Alli's four. 
Instead, Gylfi got stuck in. He won five duels to Alli's three, made four tackles to Alli's none, and made five interceptions while Alli once again came up empty.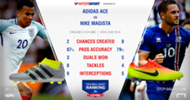 "England thought it would be a walk in the park," Sigurdsson said after sealing the most famous result in his nation's history. "They panicked a little bit. They worked hard, but it is not easy to score against Iceland."
His showing has helped keep the Nike Magista third in the INTERSPORT boot ranking for midfielders at Euro 2016 with a rating of 9.4/10 – two places above Alli's Adidas Ace.
The INTERSPORT Football Boot Ranking has been created to empower football fans to choose the best available boot for their needs.
The Nike Mercurial still leads the pile with a perfect 10 as the likes of Eden Hazard, Kevin De Bruyne and Jakub Blaszczykowski all found their feet in the competition this week.
The Mercurial leads the pile in assists, goals and 1vs1s, with Hazard having come out on top on no less than 37 occasions in which he's gone directly up against an opponent.
Alli is no longer in a position to initiate a knockout-round surge from the Ace but German duo Julian Draxler and Mesut Ozil could do exactly that in the standout tie of the knockout round when the reigning world champions meet Italy on Saturday.
As Euro 2016 races into the quarter-finals this week, the Mercurial currently leads the rankings overall.

The INTERSPORT Football Boot Ranking looks at which boots the game's biggest stars are wearing and links the data to statistics from competitions across Europe, and fans can track the progression of their favourite boots throughout the Euros by navigating the rankings online. Discover which football boot performs the best now.