Johor Darul Ta'zim
Safawi finding joy in new-found role for the U-22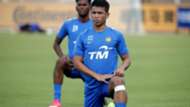 In preparation for the AFC U-23 Championship qualifier in Bangkok next month, Datuk Ong Kim Swee's U-22 team has already played four matches, with a variety of results. One shining light from the short time that Ong has taken charge of the team is definitely Safawi Rasid.
The Johor Darul Ta'zim (JDT) winger has been used further up front by Ong in those friendlies and that has culminated in the 20-year-old notching up three goals in those four matches. Deployed up front as a striker, it's a position that Safawi also picked up minutes in for JDT during their short-lived AFC Cup run.
Speaking after returning from China, the former T-Team player believes that the recent playing tour is one that can be seen as a successful one as the squad prepares for consecutive months of tournaments, starting with the qualifier in Bangkok.
"I think the trip to China has many positives. With one win, one draw and one loss - it's a good result for us because the players there are of good quality and we've shown that we can put up a fight to them," said Safawi.
The qualifiers will see Malaysia going up against Indonesia, Thailand and Mongolia where the crowd is likely to be against them compared to their assignment in August where home crowd  will back the team in the South-East Asian (SEA) Games.But for Safawi, neither circumstances will oput a strain on the team.
"That is normal to play away. We've all played in those games before  and there's no issue. Playing at home for the SEA Games will also be helpful than a hindrance to us," he said.
Safawi is also reveling in the new role used by Ong, scoring against Guangzhou R&F and Melaka. The 3-5-2 formation is one that he believes that the players has adapted well and looks increasingly comfortable playing in. 
"This formation suits us. We haven't used it before but in China, it all felt comfortable. We created a lot of chances in attack and we defended compactly," added Safawi.
Ong has a known penchant for Arsene Wenger and Arsenal, the latter's triumph in converting Thierry Henry from a winger to a striker is a well-told story. Perhaps on a different scale, this could also mark a positive change for Safawi.