Ronaldo? Pogba? Which footballer has the best hair?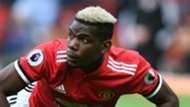 Do you ask your barber to copy Cristiano Ronaldo's slick comb-over? Or do Paul Pogba's colourful streaks catch your eye?
Footballers hairstyles, more than ever, have become an extension of their on-field personalities.
And we want to know who YOU think deserves the Salon d'Or for the best hair in football.
Let us know in the poll below.
document.write('');