Roma
Roma wear special jersey for derby clash with Lazio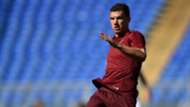 Roma have revealed a special jersey for their derby game against city rivals Lazio on Sunday.
The Giallorossi will sport a shirt with 'SPQR' on the front  and, according to the club's official website, "its presence on Sunday's shirt further underlines the club's relationship with the city."
'What a fight!' - Football reacts to Joshua win
SPQR or Senatus Populusque Romanus, which translates roughly as 'The Senate and People of Rome' is the city's historic motto.
Today's special derby kit has another special addition... #ASRoma #SPQR pic.twitter.com/LVt2duQJSI

— AS Roma English (@ASRomaEN) April 30, 2017
It is the final Rome derby of the 2016-17 Serie A season and Luciano Spalletti will hope that the new jersey will see them repeat their December victory over their rivals as they look to secure second place.
Check out the unique jersey above!