Bundesliga
Pulisic delivers fitting ending to dream season at Dortmund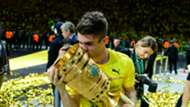 Young American sensation Christian Pulisic wrote a perfect ending to what finished up being a dream first full season as a professional soccer player.
The 18-year-old phenom came off the bench in Borussia Dortmund's DFB-Pokal final against Eintracht Frankfurt and drew the eventual match-winning penalty. The final record will show that Dortmund star Pierre-Emerick Aubameyang slotted home the cup-winning penalty kick, but Dortmund fans and players will be sure to remember that it was the fearless kid from Pennsylvania who raced into the penalty area and drew the foul that earned him the first winners' medal of his young career.
'Messi-type' Pulisic can be first U.S. superstar
It couldn't end any other way, really. Not for a player who only 18 months ago had never stepped on the field in a professional match, but in the time since had scored goals in the Bundesliga, UEFA Champions League and World Cup qualifiers. He went from being unknown on the international scene to now being considered one of the world's brightest prospects.
It is crazy to think that just a year ago Pulisic had just completed a whirlwind six months that saw him go from Dortmund youth player to regular contributor off the bench, as well as U.S. national team newcomer. He was 17 then and what he had already done was enough to excite American soccer fans who began wondering if he just might be the special breakout international star U.S. Soccer had been waiting for.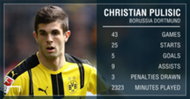 Even as there were calls to calm the Pulisic hype train in the fall, the Hershey, Pennsylvania, native tossed more coal in the engine, shining with the U.S. national team before starting his new club campaign with Dortmund on a hot streak. He helped set up a Champions League equalizer against Real Madrid in September, and became a regular starter for Thomas Tuchel's squad.
Pulisic's peak came in March, when he was outstanding for club and country. He impressed in Dortmund's Champions League decider against Benfica, scoring a goal during a stretch that saw him find the net in league play as well as the DFB-Pokal. He followed that up with his virtuoso display in the U.S. World Cup qualifying rout of Honduras, before setting up the lone U.S. goal in the qualifying draw in Panama.
Pulisic eventually cooled off — at least by his lofty standards — in April, though he continued to earn starts. Tuchel started Pulisic in just one of Dortmund's final six matches in all competitions, but Pulisic still managed to make an impact off the bench, and still had enough to end this impressive club season in style by drawing the match-winning penalty on Saturday.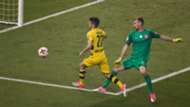 To appreciate Pulisic's continued evolution as a player, and his growth over the past season, you needed only to watch him celebrating with his Dortmund teammates. He was no bit player forced to enjoy the celebrations from the margins. No, Pulisic had been a big part of Dortmund's success this season and you could see the appreciation his teammates and Tuchel had for him. They had watched the kid shine in the biggest of moments, making the 'kid' label feel inadequate considering the man he has become before our eyes.
Pulisic finished the German season having played in 43 matches, with five goals and nine assists in all competitions. The penalty he drew on Saturday was his third of the season, easily the most on his team. Considering he did all that playing in the Bundesliga, Champions League and DFB-Pokal, you can argue that he just had the best club season of any American. Something no 18-year-old American has ever been able to come close to claiming.
How does Pulisic top that? It would be easy to get carried away, but considering how he has blown away expectations each of the past two years, might we be underestimating him by thinking he can't do better? The good news is that he's at a club in Dortmund that has shown itself to be masterful at developing young talent, and even more talent is on the way next season with the signing of Mahmoud Dahoud and expected integration of winter signing Alexander isak.
But first, Pulisic will head into June expected to be an integral part of the U.S. national team's World Cup qualifiers, and he will take his first trip to Estadio Azteca for the June 11 USA-Mexico showdown. After shining in some of Borussia Dortmund's biggest matches over the past year — and looking so good in the March qualifiers — Pulisic will have a chance to top them all by starring in a venue few Americans have enjoyed success.
That might sound like a tall order for an 18-year-old, but as he has shown over and over — and once again in the DFB-Pokal final — Pulisic is unlike any American we have ever seen, and we haven't seen his best yet.