Paul Pogba
Pogba refuses to address issue of Man Utd problems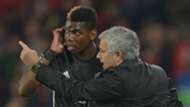 Paul Pogba has refused to address the issues facing him at Manchester United, with unwelcome questions shrugged off.
The France international has become the centre of attention at Old Trafford through no fault of his own, with events conspiring against him.
An untimely dip in form has seen his value debated at length, with Jose Mourinho among those to have been left unconvinced and forced to bench an £89 million asset.
It has been suggested that Pogba could be moved on in the summer, with United ready to explore different options, but the 24-year-old is reluctant to be drawn on his current situation.
Quizzed by Expressen during a trip to Sweden with United team-mate Zlatan Ibrahimovic to open a Padel centre, Pogba said:"I'm only here to support Zlatan and talk about Padel."
While his own standing at Old Trafford remains out of bounds, the all-action midfielder is prepared to discuss the struggles of others.
Victor Lindelof is yet to justify a £30.75m transfer fee following a summer switch in 2017, but Pogba believes the Sweden international defender has fared admirably after showing signs of encouragement in recent weeks.
He added on the 23-year-old centre-half: "His season has been very good.
"He shows the quality on the pitch, he has shown to the world and for all supporters what he can do.
"He is a very good player and we need him. He is a nice person off the pitch too, you must not forget that it is his first season. It's never easy for the first year in England.
"He is a player who adapts very well. He is a quality player. He has been doing well.
"He has won big titles and played with big players already in Benfica, so he is not new to the football world."