Euro 2016
Pique doesn't help himself, says Ramos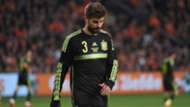 Sergio Ramos has refused to defend Gerard Pique and says he must take responsibility for his actions after the defender was jeered by supporters while playing for Spain.

The Barcelona centre-back was booed during La Roja's 2-0 win over Slovakia at the weekend by certain sections of the national team's support.

The 28-year-old has been targeted by some fans due to his support for Catalonian independence campaigns and some inflammatory remarks directed at Real Madrid.

Vicente del Bosque has been quick to back Pique but Ramos, speaking after Spain's 1-0 Euro 2016 qualifying win over Macedonia, says his behaviour has not helped his team's cause.

"We all make mistakes, I'm the first," he told reporters.

"Each one of us must take responsibility for our errors, but perhaps because of the rivalry between Barcelona and Real Madrid, Pique's recent actions haven't helped.

"I'm not going to get into what you do when you win. When I win it doesn't occur to me to remember anybody who isn't a loved one.

"Whether we agree with his actions or not you have to think about the national team and not create controversies that damage the group."

Del Bosque has also had to defend Pique after he visited a nightclub ahead of the clash with Slovakia but Ramos does not feel that is an issue: "We haven't got any guide about going out for a drink."