Premier League
Ozil called out over wage demands by Labour leader Corbyn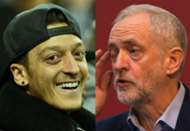 Jeremy Corbyn has pleaded with Arsenal star Mesut Ozil to reduce his wage demands and sign a new contract.
Ozil: I'm very comfortable in London
Ozil, along with Alexis Sanchez, is out of contract at the end of next season and recently insisted he would not recommit until given assurances over Arsene Wenger's future at the club.
The pair are reportedly demanding huge pay rises to bring their wages level with the Premier League's top stars, with Ozil currently understood to be taking home £140,000-a-week and Alexis around £10,000 less.
But the Labour Party leader, who this week demanded a wage cap for Britain's highest boardroom earners, is hoping Ozil reduces his demands - reportedly as high as £290,000 a week - and pens extended terms.
"I do [think he's paid too much]," Corbyn said while a guest on Sunday's 'Andrew Marr Show' on BBC One.
The Arsenal fan then directed a message to Ozil, adding: "Mesut thanks for your game, you are a fantastic player, but can you just live with what you've got at the moment?"
"He's a lovely player and it's a great club," Corbyn concluded.
Ozil was crowned German Player of the Year this weekend, picking up the award for the fifth time in six years.