Mesut Özil
Ozil: Arsenal spell not always easy, but special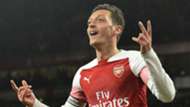 Mesut Ozil admits his time at Arsenal has "not always been easy", but insists his time in north London "has always been special".
The German playmaker has experienced a rollercoaster of emotions during his five years spell in England, with his performances often earning him as many critics as plaudits.
He is a player who can divide opinion, with undoubted ability countered by a supposedly questionable work ethic.
Ozil has learned to ignore his detractors, with his mercurial talents always likely to deliver highs and lows, and the World Cup winner has thoroughly enjoyed his time at the Emirates.
He told the club's official website, having completed a switch to north London from Real Madrid in the summer of 2013: "It's not always been easy, but it has always been special.
"When I first arrived here I was very excited and a little bit nervous as well. It was always a new chapter and at the end of the day I was very happy to play for such a big club like Arsenal and meet all my team-mates.
 
"When I first arrived at the training ground, outside there were so many people. They were waiting for me. It was very special and it was a very good moment for me. The feeling was amazing, even the first game at the Emirates was so special for me. All the fans supported me until now and I'm really grateful and appreciative of that.
"I just heard that the club hadn't won this trophy [the FA Cup] for many years so it was very special for me and for my team because it was our first title. It was important to continue this work and as a player you work for titles.
 
"If you win at the end of the season, you're happy because you really have worked for that and you want to reach your goals. At the end of the day we were happy with the team. It was special, not just for us, but for the fans as well.
 
"We keep trying to win trophies to make us and the fans happy."
Ozil tasted FA Cup success in his debut campaign with the Gunners, and again the following season.
A third triumph in that competition was enjoyed in 2016-17, but the 30-year-old is still waiting on other medals and will be looking to chase down Carabao Cup and Europa League glory this term.
Arsenal also have another FA Cup quest to come in 2019, while a 16-match unbeaten run under Unai Emery has them pushing for a return to the Premier League's top four.