Ong Kim
OKS hoping to observe more than just first team at Atletico Madrid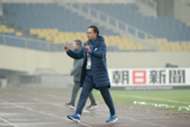 Ong's assistant Brad Maloney is also part of the trip to the capital of Spain that showed the strength of the growing partnership between Football Association of Malaysia (FAM) and La Liga.
Fresh from guiding Malaysia Under-23 team to a quarterfinal place in the 2018 AFC U23 Championship, Ong and Maloney will now get a chance to broaden their footballing horizons and perhaps rub shoulders with one Diego Simeone.
During their time there, Ong is also expected to be allowed to be part of an observation group for when the Spain national team gathers for their international friendly matches against Germany and Argentina.
"It's not only the Atletico Madrid first but we will also make time to look at their second team, academy structures and youth development. In the middle of March, we will also be given a chance to observe the Spain national team during the international friendly," said Ong when contacted by Goal.
Even though the two main men will be away, the work continues for the rest of Ong's staffs. The three coaches led by Khan Hung Meng will be going around scouting for players as the team prepares for a tournament in Indonesia in April.
Khan is expected to lead the training sessions when the call-up is done while waiting for Ong to return later in the month.
"We started watching the President Cup last week and will continue to do so for the next few ones. Hung Meng, Chris [Yong] and Reuben [Jude] will do the scouting and call-up on March 18 where the first batch of U21 players will be assessed."
"I will be back on 25th and the next day we will have two sessions with the boys before a friendly match on March 27. It's the first look of the players for the pre-Asian Games tournament in Jakarta in April," added Ong.