Transfers
Nainggolan: I don't regret Chelsea and Man Utd snubs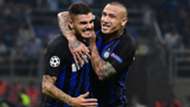 Inter and Belgium midfielder Radja Nainggolan has revealed that he has no misgivings about snubbing offers from Chelsea and Manchester United in the past, and has no regrets over deciding to stay in Serie A after leaving Roma earlier in the summer.
The 30-year-old made the €38 million (£33m/$42.4m) move to San Siro in June, and has reiterated his happiness in remaining to stay in Italy rather than agreeing to a move to the Premier League.
Nainggolan admitted that though he was offered a substantial pay rise at Chelsea when they came knocking in 2017, he ultimately decided to stay at Roma.
"I have had plenty of chances to leave," he said to ESPN FC. "I am the kind of person who above all needs to live well and be at a club which plays to win, or where I am happy with my life.
"There are lots of components -- lots to evaluate. I stayed in Italy, with Roma, because I wanted to end in the best way possible There was Manchester too. There were many things that I was not interested in at all. Of course you are flattered by the interest, but this is how it is.
"In Italy, you live really well -- I like the culture and way of life here. Chelsea offered me more money and they are a big club, yes."
He made no secret of the pace and expectation of the Premier League, however, conceding that English football was at a different speed to the rest of Europe: "I think if you want a spectacle, you need to watch English football.
"In terms of the fans, the stadiums being full, the pitches being perfect -- and it seems like the action is in fast-forward.
"The rhythm is so high, but it's not as tactical as it is in Italy. If you were to ask me which league I'd like to play in, maybe I'd say England for the spectacle, but I've been here for so long now that I'm perfectly happy here and I don't need to change anything."
Nainggolan spent five seasons at Roma from 2013-18, scoring 33 total goals in 2013 club appearances. 
The Italian side emerged as an underdog in last year's Champions League when they defeated Barcelona in the quarter-finals, but ultimately were knocked out by eventual runners-up Liverpool in a thrilling semi-final tie.
The Belgian outlined his belief that Inter Milan was on the path to great success, however, as his main reason for joining the side in the summer.
"I've come to a club who are looking to build something big, so I think I'm in the right place."