Scotland
Moyes admits Scotland would be hard to turn down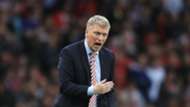 David Moyes says he is open to replacing Gordon Strachan as Scotland manager.
A 2-2 draw with Slovenia in their final World Cup qualifying game saw Scotland beaten to a playoff place on goal difference, leading to Strachan's departure.
Celtic 10/1 to beat Dundee 3-1
Although Malky Mackay has taken over as interim-coach ahead of Scotland's friendly with Netherlands, the Scottish Football Association are in the hunt for a permanent coach.
Former Manchester United and Everton manager Moyes has been reported as a candidate and he admits an offer would be difficult to knock back.
"I don't think anyone ever turns down their national team opportunity, but I think it has to be at the right time," the 54-year-old told BBC Radio 5 Live.
Moyes been out of work since leaving Sunderland in May in the wake of their relegation from the Premier League and admits he would favour a club over his national team.
"My first choice would be to go back into club management but if Scotland want to talk somewhere along the line, I'd be happy to help or speak with them and see what they've got to say."
"They know where I am if they want to speak to me."
The prospect of the SFA hiring a foreign manager has been raised in media, but Moyes maintains they should look for a homegrown option.
"Scotland have looked at managers from abroad and I still think the best choice would be a Scottish manager," he said.
"I would like it to be the rules all round the world that that is the case - you manage the country of your birth."