Transfers
Mourinho 'not confident' of new De Gea contract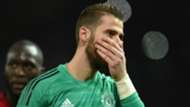 Jose Mourinho says he is not confident in Manchester United's chances of extending David de Gea's contract.
The Spain international has been ever-present for United this season, playing in all nine of the club's Premier League games, though he has conceded a total of 16 goals.
Nevertheless, United are keen to extend his deal, with his current contract set to expire at the end of the season, though the club hold the option to trigger a year-long extension.
Real Madrid almost struck a deal to sign De Gea in the summer of 2015, with a faulty fax machine blamed for the transfer falling through.
Real's acquisition of Thibaut Courtois from Chelsea in the summer appeared to clear a path for United to tie De Gea down, but Mourinho has now expressed his doubts amid rumours that both Paris Saint-Germain and Juventus are monitoring developments.
"I am not confident, but I'm also not worried," he told Sky Sports. "I cannot find the word in English, but let's see what happens.
"Only the club, David and his people can answer that. My comment is only that everyone knows how good he is, how important he is for Manchester United and if the club want to be better than it is and not worse, obviously it would be very important to keep David."
De Gea had hinted at signing a new deal in September, but it appears that recent developments may have thrown his decision into doubt.
"I feel really loved at his club from the fans from all the people who are for this club," he told reporters after being asked about signing a new contract.
"I am really happy to play for this club, one of best clubs in the world, so for me really good to be part of this club."
Mourinho had also expressed his ebullience at the prospect of De Gea committing to fresh terms in the summer.
"He likes it here, we love him, we want him to stay, he wants to stay, so when a player is not in the market the value is zero," he said in August.
"A goalkeeper is a player and sometimes people forget that. A goalkeeper wins points and wins titles, so he is as important as another player."
United and De Gea are back in action on Sunday against Everton as they look to arrest a run of form that has seen them win just one of their last seven matches in all competitions