Mourinho confirms imminent De Gea contract extension at Man Utd
Jose Mourinho has revealed that David de Gea is poised to sign a contract extension at Manchester United, bringing to an end any uncertainty surrounding his future.
For a number of years, each passing transfer window has brought unwelcome transfer talk to Old Trafford.
The Red Devils have always maintained that they have no intention of parting with a man who has been a model of consistency for them during a testing period – with that form recognised with a record-breaking haul of four Player of the Year awards.
Real Madrid had often led the chase for De Gea, but they snapped up Thibaut Courtois from Chelsea over the summer and United have been freed to focus on agreeing fresh terms with their No. 1.
Those talks are set to reach a positive conclusion, with Mourinho telling reporters when quizzed on what the 27-year-old could be worth in a market place where Alisson and Kepa Arrizabalaga have been on the move for £67 million ($85m) and £72m ($92m) respectively: "His [De Gea's] valuation is zero, because he is a Manchester United player who, as soon as possible, will sign a new contract.
"He likes it here, we love him, we want him to stay, he wants to stay, so when a player is not in the market the value is zero.
"A goalkeeper is a player and sometimes people forget that. A goalkeeper wins points and wins titles, so he is as important as another player."
Mourinho added on rising valuations of players across the board: "The old story of 'I'd pay that for a striker, but I wouldn't pay it for a goalkeeper' is old fashioned. The market now understands that and I am happy for the keepers.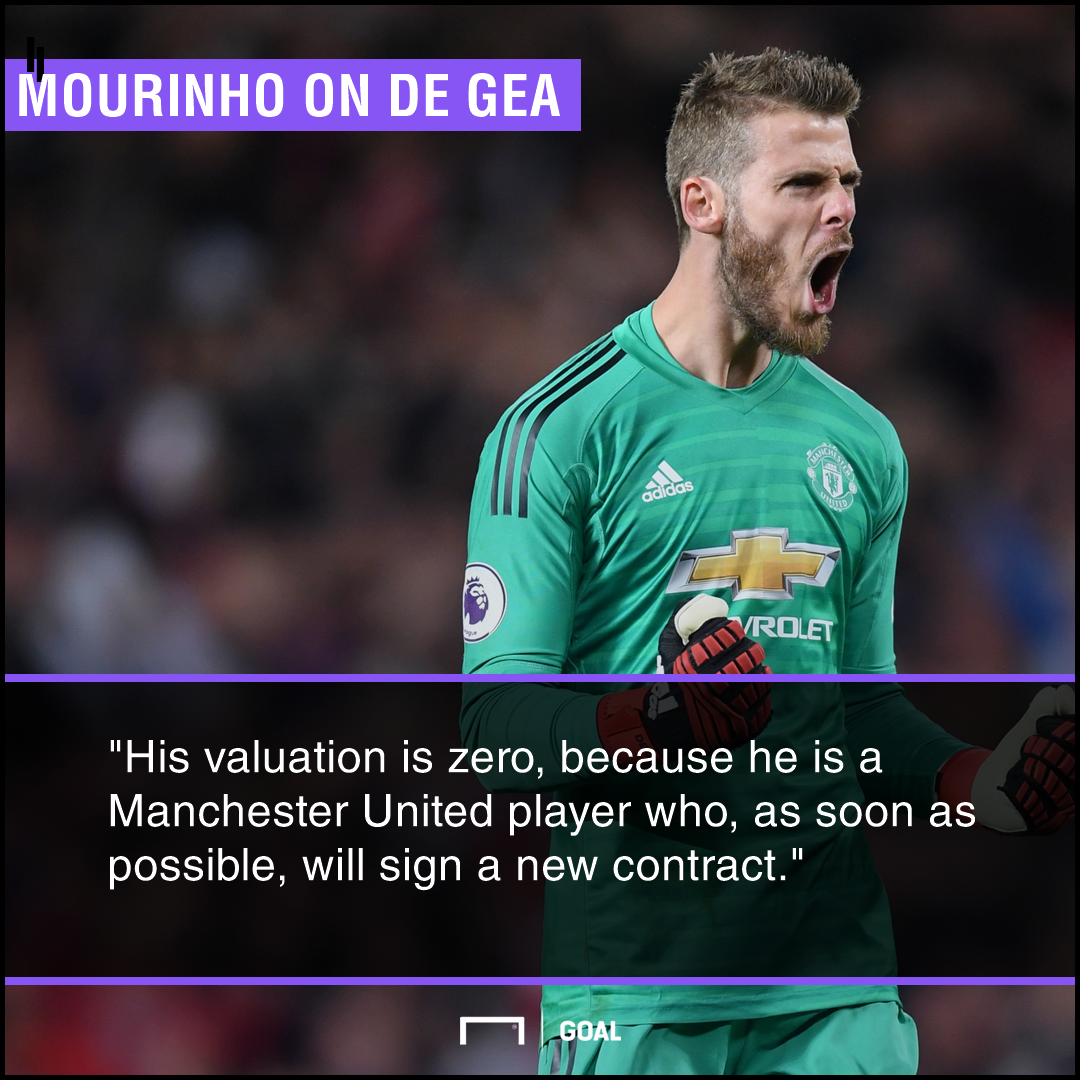 "But with David, it is a collective situation involving the player, his agent [Jorge Mendes] and Manchester United.
"The agent didn't create a war to try to achieve his objectives. He respected the club, he respected the player, the player was always keen to stay and happy to do so and the club understood how important he was.
"So we have always tried to give him the conditions to make him happy, so credit to all three parties."
Mourinho is delighted to see De Gea ready to commit as he considers the Spain international to be the world's best in his chosen position.
The United boss added: "I don't want to be disrespectful or arrogant about other keepers and say Courtois is not good or Manuel Neuer is not good - there are so many.
"What I am saying is that I wouldn't swap De Gea for anyone."