Super League
Maniam praises Mineiro while Usop criticises Shahril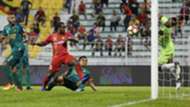 ---
  BY       OOI KIN FAI      Follow on Twitter
---
Selangor climbed up to third in the Super League table, at least for the 24 hours before Johor Darul Ta'zim (JDT) takes to the pitch. Three points achieved against Sarawak in the 2-1 win gives the Red Giants their 15th points of the season thus far while Sarawak remained down in 11th spot with the season almost at the mid way point.
Sarawak head coach, David Usop was despondent after the match as his team failed to meet their target prior to the match but now has two consecutive home games against Perak and Kelantan to make up the deficit and to push their way up the table.
"Our aim was to take away a minimum of one point but that wasn't to be. In the first half, we should have scored two or three goals. It was unlucky for the boys, who did well but just couldn't score," said Usop in the post-match press conference.
Usop was also not particularly pleased with the performance of his keeper Shahril Sa'ri in the concession of the two goals at Selayang Stadium. It was a costly error which could have a big bearing on the Crocs' season.
"The second goal is a keeper's ball. He was supposed to come out to claim but he didn't. Other games he's alright but tonight he's not himself. So it's an individual mistake," added Usop.
As for the coach of the home team, P. Maniam couldn't be happier as he sees his team achieved their fourth league win of the season. Victor Astafei and Forkey Doe were the scorers but Juliano Mineiro was instrumental for the home side on Saturday night.
Maniam was also relieved to see his team weather the early storm from Sarawak and was no doubt pleased to see how his team fought back to take control of the match and ultimately in getting all three points at the end.
"For 10 minutes we took it easy and luckily they didn't score. Then we came back into the game and got better after scoring the first goal. OVerall, I think it was a deserved victory."
"Mineiro has already scored four goals. He's doing well but he still has to work on his defensive game. But I'm happy with him," said Maniam.
Selangor will next travel to Kuantan to face an in-form Pahang side who are currently riding high in the league.