Premier League
Man United strike partnership with LGBT charity Stonewall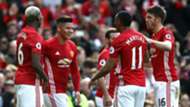 Manchester United have announced a new partnership with lesbian, gay, bisexual and transgender (LGBT) charity, Stonewall, becomiing the first UK football club to form such an association. 
Stonewall is a group that fights for the rights of LGBT people and is named after the famous riots that took place in Manhattan in 1969, when members of the LGBT community rose against police repression in a series of demonstrations.
And United have pledged to work alongside the charity in order to push a message of equality through the club. 
Rooney & Shaw left out of United squad
"Manchester United always looks to be a leader in everything it does and we are proud to be the first sports club to sign up to TeamPride," managing director Richard Arnold signalled. 
"The club has an ongoing commitment to equality across all areas and with 659 million followers around the world, it is our responsibility to show support and recognition to everybody who loves this football club.
"We have built up a positive working relationship with Stonewall and it's a great way for us to learn from each other and progress together as we strive for equality for all of our supporters."
Stonewall chief executive Ruth Hunt also hailed the partnership as a positive step for LGBT individuals in sport. 
"Manchester United's support means we can reach millions of football fans both here and around the world, to encourage them to do their part in making all people feel welcome in sport," she said.
"It's crucial for organisations like Manchester United to show they not only welcome LGBT people, but are active in leading the change. At the moment, many LGBT people want to take part in sport, either as players or fans, but the behaviour of a minority can make them feel unsafe, unwelcome or unable to be themselves.
"There's so much work left to do to ensure that all LGBT people feel able to participate in sport, and we hope to see other clubs take Manchester United's lead and join the Rainbow Laces campaign to make this a reality."