Manchester City v Liverpool
Man City less potent and more fragile but Guardiola comes out fighting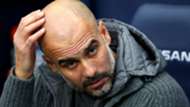 Both before and after Manchester City's must-win game at Southampton on Sunday, Pep Guardiola made reference to a seemingly routine 4-0 victory at West Ham back in November.
"We didn't dominate," he said on Sunday. "They had three or four chances one-on-one." On Saturday he said: "They created more chances than us. We were not perfect. After the international break, this can happen, but this month was not so full as it was at the beginning of the season."
By "so full", Guardiola presumably means City have not been as solid, as structured, as they were in the early months of the season.
They have gone from a stage when City had only conceded five league goals and Guardiola was highlighting how opposition were barely having a shot on target, to no clean sheets in 10 games in all competitions.
Guardiola said on Tuesday in defence of his side that "always there is a consequence of the chances we create and the chances we lose", yet both have worsened in the past month or so, using the 'expected goals' (xG) metric.
These statistics, which rate the quality of chances, show that City's recent matches have been closer battles than usual.
re who should be favs #LFC #MCFC . If you're just going on 2018/19, there's been a gradual coming together followed by a flip flop. 6 game rolling #xG goal difference trends. Something to fix & something to hang onto? pic.twitter.com/bdKBiiGCzh

— mark taylor (@MarkTaylor0) December 26, 2018
xG map for Manchester City - Everton

so... uh... city aren't back just quite yet maybe pic.twitter.com/5JOKnfnCyW

— Caley Graphics (@Caley_graphics) December 15, 2018
In City's 2-0 defeat at Chelsea, they actually had better chances than the Londoners, 1.0 to 0.6, showing that it works both ways and that City, even in their rough patch, have generally managed to create more chances than their opposition.
Yet the 3-1 victory against Everton comes out as a 1.5 - 2.0 loss, chances-wise, suggesting Everton had more and better quality opportunities than City. If that is allowed to happen on a regular basis, then defeats are inevitable.
In terms of good, old-fashioned shots on target, City's lowest tallies have come against Liverpool (2), Chelsea (4), Leicester (4), Crystal Palace (5), Everton (5) and Manchester United (5). Barring the Liverpool game, all of those have been since the West Ham clash that Guardiola has used as a yard-stick.
Injuries to key players have, of course, had a bearing on these figures and City's results, especially in the past fortnight, but Guardiola has signalled in recent weeks that he knows his team have been offering up too many chances, and not scoring as many as they should do.
With Liverpool visiting on Thursday, that will be a major concern for Guardiola. Not that he admitted to it in his press conference on Wednesday.
"We concede few. That is the feeling I have," he insisted. "The boxes are the most important thing. The last games we concede more goals than usual but the chances we concede they are not too much."
He has a point, too, given there was an element of smash-and-grab about Crystal Palace and Leicester's victories, even if City were well below their best.
Yet he must know, deep down, that the overall trend is that his side have been more open than usual – after all, he admitted as much as recently as Saturday.
And Ilkay Gundogan's recent interview suggests it is a hot topic behind closed doors.
"Sometimes we made it too easy for our opponents to go through and we left them too many open spaces," he told SID this week.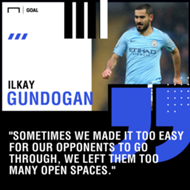 There were signs of that even before City lost at Chelsea.
An analysis by Football Whispers highlights that between September and November, City's opponents were enjoying more moves of five or more passes per game, more passing moves reaching the final third and more moves starting in the defensive third to reach five or more passes, compared to data from January to September.
It is also highlighted that Fernandinho averaged five tackles and interceptions per game compared to just 1.8 per game over the same periods.
At least when Fernandinho is fit City have somebody who can put out the fires (which helps explain their issues when he was missing over Christmas).
But he does have more work to do for a reason, and the data suggests that City are either not pressing as much as they did last season, that they are not as effective as they were, or that opposition teams have learned how to cope with it slightly better.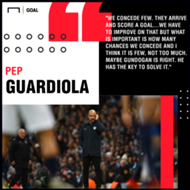 It should be pointed out that that approach is still more than good enough to challenge for the title, perhaps even to win it, even if City are not quite as formidable as last season.
After all, City were top of the Premier League, despite their relative struggles, before injuries to Fernandinho and David Silva combined with Kevin De Bruyne's lack of fitness over Christmas.
The biggest problem for City is Liverpool, in that the Reds have punished their recent slip-ups and appear best-placed to do so in a one-off match. 
If the Blues were facing almost any other Premier League team on Thursday they could be confident of getting back on track in the title race, even if they are sloppy in front of goal and slightly more open in defence.
But not against Jurgen Klopp's side.
Guardiola has acknowledged as much but he is never one to go into detail regarding his side's pitfalls in public. And this week he came out fighting.
"It is Liverpool, but we can beat them," he insisted. "I know today nobody trusts us, nobody makes one coin for us, but it is what it is.
"We are going to focus on what we have to do to win the game. Everyone is talking about if we lose, but what happens if we win?"
City fans will hope their manager has something up his sleeve.