Milan
Maldini: I will absolutely not take AC Milan role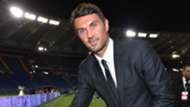 Paolo Maldini says there is no chance of him returning to AC Milan to take up a role on the board despite new owners arriving.
Why Wenger has never beaten Mourinho
Li Yonghong succeeded Silvio Berlusconi as president last month after his consortium bought the club from the former Italy prime minister's company Fininvest.
Maldini rejected the chance to take over as the club's technical director in October, expressing his dismay at organisation of the club.
Following the transfer of ownership, the legendary defender was asked if he may reconsider taking up the role, but he insists nothing has changed.
"Absolutely not," he told Sky when asked if he could return soon.
"I made my decision a long time ago and I think it was right and well considered. I spoke to them in October, the deal was closed a month ago, my doubts remained.
"Of course my love for the team always remains, even sadness due to the end of the Berlusconi era that led players and fans to incredible experiences.
The man who can beat Messi to the Golden Show
"There was a meeting but it was not successful. I was lucky enough to be able to express what I thought without being tied to anything that would make me change my mind.
"I can be right or wrong but independence of thought is the most satisfying thing in my career and I do not want to change that."
Maldini spent his entire career at Milan, joining the youth system at the age of 10 before spending an incredible 15 years in the first-team, winning seven Serie A titles and five European Cups, while he finished runner-up in both the World Cup and European Championship with Italy.