Liverpool
Liverpool to remain flexible with formation, says Klopp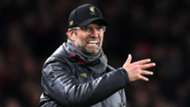 Liverpool manager Jurgen Klopp has dismissed suggestions of a permanent formation change for his side and says football shouldn't be made more complicated than it is.
The signing of Xherdan Shaqiri, who has scored two goals since his summer arrival from Stoke City, has seen Liverpool set up in a 4-2-3-1 system in recent weeks, to allow the Swiss forward to play alongside Mohamed Salah, Sadio Mane and Roberto Firmino.
It's been suggested that Liverpool have been at their best when using this formation this term, but Klopp says his side will continue to adapt the shape of the team depending on the circumstances.
When asked about his recent use of the 4-2-3-1 system, the Liverpool boss told Premier League Productions: "We played it from time to time, we didn't only play it at the beginning when I came in.
"We played it last year, I think we played it in the last game. We played different systems. But I don't think too much about things like that, I'm always in the situation. 
"I use my experience with only what I can remember – I don't go through my papers and think: 'What did we do in that situation?'
"I'm pretty sure we played a diamond because I played it always when I had the opportunity to do it, bringing in two strikers and stuff like that."
Since Klopp's arrival at Anfield, Liverpool have had a lot of success when using a formation with three central midfield players and three forwards.
Many expected Klopp to stick with that this season, but the German has played down the recent changes in shape and insists that the performances from his team centre around the players and not the system.
"Our system, when we play with all three up front, is something like a diamond; it can be a 4-5-1, it can be a 4-3-3. Of course, 4-2-3-1 – 4-4-1-1 I'd prefer in most situations to name it – is a good system.
"But it's never about the system, it's all about the players. My job is to bring the players into the best position where they can help the team most with the things they can do. If I can do it with the system, I do it, but it's not that we go through the week and be very creative with things like that because, in the end, the players need to play [on instinct].
"If I need an hour or two to explain what I want from them, maybe I have got them [in the mind] but I don't get them deeper. That's the problem.
"Don't make football more complicated than it is; the game has enough demands for the players that we don't need a manager who asks more questions."