Liverpool
Klopp: Hegazi should have seen red for Ings punch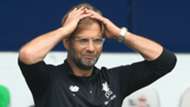 "Liverpool manager Jurgen Klopp believes that there is no doubt that WBA defender Ahmed Hegazi should have seen red for a punch at Danny Ings.
The Reds rehearsal for their midweek Champions League clash with Roma did not go according to plan as they were held to a 2-2 draw at the Hawthorns, throwing away a two-goal lead in the process.
Klopp made it clear he was not happy with the outcome of the game and was particularly critical about the refereeing.
One of the incidents that incensed him most, however, was Hegazi's cheeky jab at Ings while both were prone.
"It's a red card. But you see it, I see it, that's not important. It matters only what the three or four gentlemen with the whistle say. We can't change that," he said after the match.
"But if you get these situations, it's different. I think if you are the better team you should win, we were the better team but we didn't win.
"I don't think that point will help West Brom massively, so it feels like a waste of points really! They don't need it, we don't need it. They are happy, we are not happy, we stay in the league, they do not. It makes for a strange situation!
The attacker, meanwhile, described the incident to Sky Sports in an interview after the match as simply a "coming together" and said: "It was nothing."
930 - Danny Ings has scored his first Premier League goal in 930 days, since netting against Everton for Liverpool in October 2015. Relief.

— OptaJoe (@OptaJoe) April 21, 2018
Ings ended a goal drought dating back to October 2015 - well over two years.
He struck early in the game with a low shot from inside the box to give his side the lead, though it transpired it was worth only a point to the Reds, whose focus moves to the Champions League.