NXGN
Justin Kluivert reveals if he is Team Messi or Team Ronaldo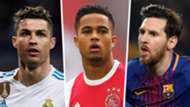 Justin Kluivert sees Cristiano Ronaldo as a great role model for his devotion and work outside of football, but he is on 'Team Messi' when it comes to picking the best player in the world.
Real Madrid star Ronaldo may say he proves he is the best and cannot be compared to anyone , but many still see fellow five-time Ballon d'Or winner Lionel Messi as No.1 in the game.
As a rising star at Ajax, Kluivert has many idols to look up to, including his legendary father Patrick, but Ronaldo is also high up on the teenager's list of role models.
"I definitely have a few [role models]," the winner of this year's NxGn award told Goal . "My father is one of them, but Cristiano Ronaldo is another, also because of what he's doing off the pitch.
"He doesn't just think about himself, but also about others. He does a lot for charities and is really dedicated to his life as a footballer. That's something I can learn from and I want to be doing myself as well.
"I'm Team Messi. He is the best player in the world, but Ronaldo is a role model for me. I'm sure Messi [works hard] as well, but I like the way Ronaldo manages to deliver the message across social media. He is an example to follow because of the way he lives for the game. That's just great."
Now a Netherlands international, having made his debut in the 3-0 win over Portugal, the 18-year-old hopes he is in the early stages of a glorious career, and aims to follow in the footsteps of both Messi and Ronaldo in winning the Ballon d'Or. 
"That's definitely my goal, I can tell you that. That's what I want and nothing less," he said. "I will have to work hard to get there, but I am only 18 and still have plenty of room for improvement. I will definitely work hard for it and that is my goal. There's more to come from me."
The winger's playing style has been compared to another global star, however, having been described as a "Neymar type" by former Ajax and Netherlands star Ronald de Boer.
Team Messi or Team Ronaldo? AFC Ajax and KNVB star Justin Kluivert - winner of Goal's 2018 #NxGn series - has his say.
Posted by
Goal.com
on Friday, 30 March 2018
Kluivert admits he has a long way to go to reach the level the 26-year-old Paris Saint-Germain star is on, but believes they do share some similarities.
"That is obviously great to hear, but Neymar is world class," he said. "It's my goal to become as good as he is and I train hard to get there on a daily basis. Of course, you go through difficult spells as well, but I'm still only 18. I eventually hope to become as good as Neymar, though.  
"Like myself, he is not overly tall or strong, but he is very fast and agile. I can see some of that in myself, yeah. And he's got that frivolous style of play, I have that myself as well. So yeah, I can understand the comparisons."
He has spent just over a year in Ajax's senior team and has only been a regular starter in November 2017, but Kluivert's development and talent have generated a lot of excitement - did he expect to develop as quickly as he has?
"Not at all to be honest. I was still playing in the B2 (Under 16) or B1 (U17) just two years ago. Things have gone incredibly fast since. I went from the C1 (U14) to the B2 at the time and that was not a great time for me because some of the others went to the B1 straight away. But it's part of the game.
"I turned a corner there and things have just taken off since. It's hard to say what happened there. It also says a thing or two about your personality. Do you give up and start hanging out with your friends, going to parties and all that or do you bounce back and show that you are the best? I have always been someone who is able to move on and I was never really into partying anyway. I think that has paid off."