Chelsea
Chelsea manager Conte backs Terry to succeed in coaching role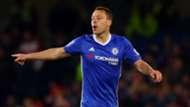 Chelsea manager Antonio Conte believes John Terry has a future in coaching having worked together to bring the Premier League title back to Stamford Bridge in his first season. 
Chelsea team news vs Sunderland
Club-captain Terry will play his final game with the Blues on Sunday as he prepares to leave after more than two decades in west London.
Conte has yet to decide whether Terry will start or even appear from the bench against Sunderland, but it seems likely that he will play a part against David Moyes' relegated side this weekend.
Terry has yet to announce his next step of his career after leaving Chelsea, but Conte believes he could make a success of becoming a manager.
"He can be a good manager," Conte said in briefing to journalists. "He has the right personality, has great experience with many managers and has won a lot. It's important to start your career [in management] with this at your back.
"Then it's also very improtant to take your time to understand which is the best way for you when you finish playing football."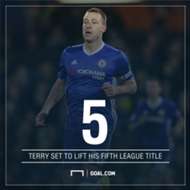 "John was very important this season with me. If you are able to mix your knowledge over the many years to work with different coaches, it's improtant to have your own ideas when you start to become a manager or coach yourself."
Terry was close to leaving Chelsea in the summer but he ended up coming to an agreement over a new contract just over a month before his deal expired. Conte was involved in keeping the skipper at the club and he credited his influence, as Chelsea find themselves back at the top of English football. 
"Every day, I saw a captain - a captain on and off the pitch. His thoughts were always for the team, and then for him. For this reason, he helped me a lot to convey my ideas, my concepts [on to the team]. I have a great opinion about John."
Alexis knows his time at Arsenal is up
"I always thought of him like a champion, like a great player. For sure, Terry is one of the best defenders in the world and I always saw him with this vision. Then, if you ask me about the human part, after this season, I can tell you that he's a really good person.
"When you are at the end of your career, it's not easy to put yourself to one side and to think first about your team, and he did this. For this reason, he's a great man before a great player."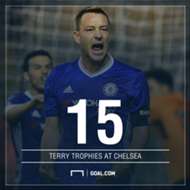 Terry has scored 67 goals in his 716 appearances for Chelsea. He will lift his fifth Premier League title on Sunday, his fifteenth major honour for Chelsea since joining the club as a 14-year-old.
Conte thinks that Terry will miss his boyhood club where he is affectionately known as 'Mr. Chelsea' by former and current playing staff. 
Mourinho: Ajax should not be Europa League
"It's not easy. For sure, it's not easy," Conte added. "I was in another situation with [Alessandro] Del Piero in my first season at Juventus, when he finished to play with them. It's not easy. 
"When you are used to having a club in your life every day, and when you start your day you have the club in your mind, it's not easy to start to think about starting a new day with this situation finished.
I've asked a lot of people over the past year about what John Terry means to Chelsea. Here's a supercut from my old interviews #CFC pic.twitter.com/NVFANl0gL4

— Nizaar Kinsella (@NizaarKinsella) April 18, 2017
"But I think it's right, this situation, in his mind, mustn't finish. Chelsea will always be his house. Now he wants to play regularly, so it's right for him to go and play. Chelsea will always be his house for him."