Newcastle Jets
Jets rue lack of creativity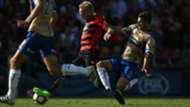 A lack of creativity in attack cost Newcastle Jets in their 2-0 loss to Western Sydney Wanderers, according to midfielder Steven Ugarkovic.
The Jets' recent impressive string of results came to an end at Campbelltown Stadium on Sunday as Mark Jones' side was held scoreless for the first time in seven A-League matches in their loss to the Wanderers.
Despite having their opportunities in an entertaining 90 minutes, the visitors couldn't find a breakthrough and struggled to build any constant pressure without the suspended Andrew Hoole and injured Morten Nordstrand (concussion), while Wayne Brown was left out of the squad too.
"In the final third we lacked a bit of creativity," Ugarkovic told Fox Sports when asked what went wrong against Western Sydney.
"That was the main thing, we just have to create more chances and the goals will come."
Ugarkovic's comment was echoed by coach Jones, who claimed at his post-match press conference that Newcastle "had enough of the ball, but we just didn't do enough with it".
Jones urged his team to keep believing in their game plan as the Jets look to qualify for the A-League finals for the first time since 2009-10.
"We are keeping possession of the ball better, we are playing out, we've just got to be a little bit tidier at times," he said.
"We take risks at times… not very many, but the couple of times we did, we got punished."
Newcastle's defeat saw them miss the opportunity to jump back into the A-League's top six, instead dropping to eighth spot behind the Wanderers.
There's a logjam forming in the middle of the table, with just four points separating Perth Glory in fifth to the Jets in eighth.
Ugarkovic was one of Newcastle's best against the Wanderers, providing plenty of drive out of midfield.
"I'm enjoying my time at the Jets now. I have a bit more confidence coming from last season and I'm just looking to help the team as much as I can," the 22-year-old said.
"I think we're all enjoying our football, we're just looking for that top-six finish now."
The Jets have a short turnaround before their next match, returning home to play Melbourne City on Friday night.