Indian Super League
Indian Football: AIFF to reevaluate home-grown player rule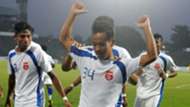 When the All India Football Federation (AIFF) introduced a home-grown player strategy wherein every academy or club must have at least 30 per cent of their squad from the region, the move was heralded as path breaking by the powers that be with some claiming that it can make a club self-reliant to others stating that this move would correspond to more support from fans.
The idea was to discourage clubs and academies from merely recruiting the best talent from across the country but also focus on potential players from the region. The Indian FA has also asked academies to register their new players until June 30 2017.
Abhishek Yadav - Parallel leagues would benefit the players immensely
One of the reasons for the same was to keep a check on those clubs who usually put together a team before the start of the competition.
However, there are quite a few concerns with regards to the home-grown player rule. Academies and clubs are constantly on the lookout for the best players across all age groups throughout the year. Just because a said player wasn't registered before the cut-off date at the start of the season would deprive the talent of a chance to ply his trade in the youth leagues.
Point number two being that why would a club or academy not take a player into their system if he/she is talented and belongs from the region? Talent should be the sole criterion for selection as opposed to home-grown player rule at the academy level at this point of time.
So just because an academy needs to fulfil the norms to make the cut for the youth competitions, they need to have at least 30 per cent of their players as home-grown!
This rule would make sense if almost every state had an academy or professional club and the game was more spread out than being in certain pockets as has been the case for decades.
Almost every top football academy in the country, namely Tata Football Academy (TFA), FC Pune City, Bengaluru FC, conduct an open trials/scouting across the country or from certain pockets in order to recruit the best possible talent.
Indian Super League: New franchises to be announced after AFC meet
From a club's perspective they are looking to develop their youth system in order to create top players who would go on to play for the first team. Why would they restrict their choice or selection based on where the player belongs from?
The AIFF Executive Committee Meeting on June 7 will see this rule being put up for discussion once again which only highlights that it wasn't a well thought move in the first place. The decision was taken in haste and that only reflects how far removed the decision makers are from the ground realities every academy/club face on day-to-day level.