Real Madrid
'I'm a better coach than Emery? Bulls**t!' says Zidane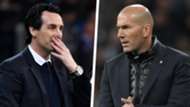 Real Madrid boss Zinedine Zidane has dismissed claims that he is a superior tactician to Unai Emery as "bulls**t".
His team saw off the challenge of Emery's Paris Saint-Germain in the Champions League last 16 with a 5-2 aggregate win over the Ligue 1 leaders, leading to rumours that the Spaniard will be on his way out of Parc des Princes.
Zidane, though, is wary of the fickle nature of the game, having seen his own job come under scrutiny for a poor league performance for the Bernabeu side this term.
"So today I'm a better tactician than Emery?" he mused at his press conference ahead of a Saturday meeting with Eibar. "That's bulls**t! For me, that's the biggest idiocy.
"But OK, we have to accept it because maybe in a few weeks we'll say that I'm an idiot and that another coach, probably the one who has won the match, is better. But there you go, that's the rules of the game.
"I only look at what I do, the passion I put in and the work that I do."
Zidane is aiming for a third straight Champions League title with Madrid, but his side lie third in La Liga, 15 points behind Barcelona and seven back from Atletico Madrid.