IFA Shield
IFA Shield 2018: East Bengal beat Tata Football Academy 4-1 to qualify for the final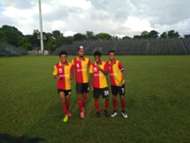 The East Bengal U-19 side marched into the final of IFA Shield 2018 by beating Tata Football Academy (TFA) 4-1 in the semifinal at the East Bengal Ground on Monday.
Chetan Hansdah gave TFA the lead in the 49th minute. T. Suranjit Singh scored the equaliser in the 64th minute. In the extra time, Gurmukh Singh (114'), Dip Saha (120+1') and Jhantu Prasad (120+2') scored the other three goals for the home side to register a convincing win.
The Red and Golds colts were on a run of three back-to-back wins and started the match against TFA as favourites in front of a sizable home crowd.
Coach Ranjan Chowdhury fielded his side in a 4-2-3-1 formation with Tetepuia as the lone striker. Captain Jhantu Prasad started just behind Tetepuia and T. Suranjit Singh operated from the left flank.
East Bengal created several goal scoring chances after retaining the lion's share of possession in the first half of the match. Unfortunately, the attackers failed to find the back of the net.
Within four minutes of the second half, the away side broke the deadlock against the run of play when striker Chetan Hansdah took advantage of East Bengal's M Clinton's sloppy defending and slotted the ball home with a great shot.
T. Suranjit Singh restored parity in the game in the 64th minute with a brilliant solo run down the middle and a cracker of a shot from outside of the penalty box.
East Bengal could have finished the game within 90 minutes had their attackers been a little more clinical in front of the goal. Winger Lalhruaitluanga, who came as a substitute in the second half, squandered the easiest chance of the match when he failed to head a Tetpuia's cross in from a handshaking distance.
In extra time, East Bengal continued to dominate proceedings and kept on launching attacks in the TFA penalty box. The away team were eyeing penalty shootout and focused on stopping the Kolkata club from scoring rather than going forward and attack.
East Bengal's approach finally yielded them result when left-back Gurmukh Singh ran down the left flank with great pace and slotted the ball home with ease to give his side the lead.
Midfielder Dip Saha and Jhantu Prasad scored two more goals just minutes before the final whistle to confirm East Bengal's ticket to the final.