Arsenal
'I like Mahrez,' Wenger admits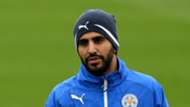 Arsene Wenger has hinted that he could be ready to make a move for Leicester attacker Riyad Mahrez.
The Arsenal boss failed in an attempt to woo Jamie Vardy to the Emirates Stadium last summer, but the Algeria international has admitted that he wants to leave the 2015-16 Premier League champions.
EXCLUSIVE: Ronaldo or Dybala goal offer
With the door to a transfer firmly ajar, Wenger told beIN Sports that he could take advantage.
"We have not made a bid, but personally, I like the player, yes. I think he made a huge impact when they won the championship," the Frenchman explained.
"Like everybody else at Leicester, this season has been more challenging, but it doesn't take away from his qualities.
"Have we made a bid for him? No. Not yet. No, we have not.
"When I say, 'not yet', it means it could happen. It might not happen."
Wenger has already outlined his plans for the forthcoming transfer window, having indicated that Alexis Sanchez and Mesut Ozil will both remain at the club, despite speculation they could be on the way out.