Thierry Henry
Henry agrees to take Bordeaux job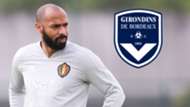 Thierry Henry has said 'yes' to becoming Bordeaux's new head coach and the decision over appointing him now rests with the club's new owners General American Capital Partners (GACP), Goal understands.
Arsenal's record scorer is eager to take the post vacated by Gus Poyet, who was suspended by the club last Friday following an outburst criticising the handling of the transfer market.
Though the Uruguayan remains under contract, he has effectively been pushed out of his role, creating a void that Bordeaux are keen to fill with a high-profile name.
Ex-Germany boss Jurgen Klinsmann, who played with Monaco, and Laurent Blanc, who previously won Ligue 1 with Bordeaux, are two names who were linked with the post, yet Henry has emerged as the No.1 choice.
Indeed, Bordeaux tried to offer Zinedine Zidane the opportunity to cut his teeth as a coach in the Gironde but now GACP, who take control of the club in September, will now make the final decision over whether to appoint Henry.
The Frenchman, who is currently an assistant coach with the Belgium national team, is very interested in the challenge, but only gave the green light to take to the role after certain conditions were met.
Primarily, Henry wished to know about the funding he will have to strengthen the squad when GACP complete their takeover and whether he'd have flexibility in the market.
Meanwhile, the 41-year-old has already been in touch with former staff at Bordeaux in order to assess the current state of the team and the infrastructure of the club.
Henry has sounded out former Gunners team-mate Gilles Grimandi as his assistant at the club, with the legendary forward wanting to follow a similar model to that implemented by Blanc when he took over the club in 2007.
The former Arsenal striker's manager Arsene Wenger, meanwhile, has already given his backing for the 41-year-old to take the role.
The Stade Matmut-Atlantique side finished sixth in Ligue 1 last term but have made a sluggish start to the campaign this time around. They suffered a 1-0 defeat to Strasbourg on the opening day of the season and then crashed to a 2-1 reverse away to Toulouse in a derby match last Sunday.
However, they have made strong progress in the Europa League, winning all six of their qualifying fixtures to date. On Thursday, they face a trip to Gent under the stewardship of Eric Bedouet, who is their current interim boss.
Bordeaux's next league fixture comes on Sunday, when they play host to Monaco.