Community Shield
Half-cooked Chelsea don't look like title contenders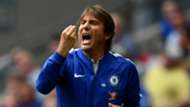 ---
COMMENT
---
You shouldn't read much into the result of a Community Shield. Arsenal won on penalties here in the new ABBA format but even had Chelsea emerged victorious there would still be a need for questions to be answered. Is this it? Is this how equipped the Premier League champions are for the season ahead? Where is the quality? Who is under pressure for his place in the team? 
Their starting XI at Wembley was pretty much the bones of last season's title-winning team minus summer departure Nemanja Matic, wantaway striker Diego Costa and the injured Eden Hazard.
Spurs to finish above Arsenal in EPL - 4/5
Alarm bells should be ringing in the ears of Blues supporters given the lack of options - and competition in the squad - as their team embark on a quest to retain their trophy.
Antonio Conte has endured a frustrating summer ever since missing out on first-choice striking target Romelu Lukaku. He suggested last week that Matic was sold without his full consent too. He is about to start what he has called the most difficult season of his managerial career with his team in far worse shape than they were in winning the league last term.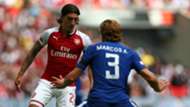 The acquisitions of Alvaro Morata, Tiemoue Bakayoko and Antonio Rudiger look good on paper but don't appear to have strengthened the squad. Instead they've only replaced what has been taken away.
The depth of Chelsea's bench here - even for a pre-season match - was shocking. Alongside loan returnees Andreas Christensen, Charlie Musonda Jr and Jeremie Boga were new signings Morata and Rudiger plus a 35-year-old goalkeeper signed on a free in Willy Caballero. Filling out the bench was youth teamer Kyle Scott. 
They cannot depend on Eden Hazard until the middle of September.
Arsenal beat Chelsea in Community Shield
And this time they do not even have the luxury of a full week to prepare for league fixtures. Very soon the Champions League will begin in earnest and Conte will have to preserve his best men for matches in that competition too. Right now it doesn't appear that he has the requisite strength to fight on two fronts.
Conte took a question about Chelsea's ability to splash €222m on a player like Neymar last week and turned it into a plea for more numbers. It is an intense game that the Chelsea manager favours and one which benefitted from the continuity of consistent selections last season. It won't happen like that again.
Mainstays Matic and Costa are gone forever and adjustments need to be made. Without Hazard they are short of a world class attacker and no number of Pedros or Willians can make up for his absence. Cesc Fabregas remains a player of rare pedigree but not in a deeper centre midfield position. He needs workers around him.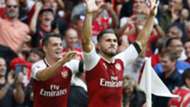 Chelsea two seasons ago under Jose Mourinho fell into the trap of being underprepared for a title defence. That curse struck Leicester City last season under Claudio Ranieri too. Conte has spoken properly all summer about the need to add players and maintain momentum but less than a week from their season opener against Burnley and Chelsea look half-cooked.
Morata looks an awkward fit in this system and is no replacement for the bull Costa. He snatched at two presentable chances in the second half here and missed his penalty. It was not a good start to life in England.
Rudiger meanwhile must learn that it is no good standing with your arm in the air pleading offside when the opposition are celebrating a goal. He and the rest of the Chelsea rearguard should have done more to prevent Sead Kolasinac's equaliser which immediately followed Pedro's straight red.
Thibaut Courtois' penalty miss may grab most of the headlines but of more concern to Chelsea is that they don't look like title-winners. They don't even look like contenders. The end of the season is a long way off but Conte has more work to do right now than he did at the start of the summer.