Guardiola
Guardiola: I can't be f***** reading about Klopp!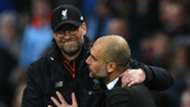 Manchester City coach Pep Guardiola has admitted that he has little interest in reading about his managerial rivals, joking that he "can't be f*****" with seeing Liverpool boss Jurgen Klopp in the papers.
The pair have been adversaries for half a decade now, first meeting in the opposite dugouts in the Bundesliga after Guardiola took charge of Bayern Munich in 2013 while Klopp was Borussia Dortmund supremo.
The Spaniard later followed the German to the Premier League, taking the reins at the Etihad Stadium a year after his rival was handed the top position at Anfield.
Speaking at an event at the University of Liverpool with students, entitled In Conversation with Pep Guardiola , the City boss made humorous reference to the pair's relationship as opposition managers.
Asked what he reads in his spare time, the 47-year-old responded: "I don't read.
"I start reading and before I know it, I am reading about Jurgen Klopp. I can't be f***** with that."
Guardiola began his managerial career in 2007, in charge of the Barcelona reserve squad before he moved to oversee the first team the following year, replacing Dutchman Frank Rijkaard.
He won the La Liga title three times in four seasons and the Champions League twice, completing a treble alongside the Copa del Rey in his inaugural 2008-09 campaign.
A year-long sabbatical in New York saw him take time out of the game following his departure from the Catalan club in 2012, before he replaced the retiring Jupp Heynckes at Bayern.
This brought him into competition with Klopp for the first time, setting the stage for a number of significant battles since.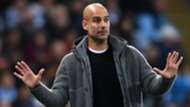 Guardiola's Bayern triumphed over Klopp's Dortmund in the race for the league title in 2013-14 and 2014-15, a feat he would repeat in the Premier League during the 2017-18 campaign.
But the Reds manager would deny his rival a semi-final appearance in last year's Champions League after Liverpool knocked City out in the quarter-finals.
Both sides return to action this coming weekend following the November international break as Guardiola looks to keep himself ahead of the Merseyside club.
City travel to West Ham at London Stadium on Saturday while Liverpool journey to Vicarage Road to face Watford on the same day.