Internazionale
Former Juventus chief Marotta set to take Inter role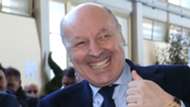 Former Juventus CEO Giuseppe Marotta is set to join Serie A rivals Inter in the coming days, Goal understands.
Marotta recently announced that he would be leaving his role at Juve after joining the club in 2010.
During the 61-year-old's tenure Juventus experienced what may have been the club's most successful period, enjoying seven consecutive Serie A titles and two Champions League final appearances.
Now, though, Marotta is set to bring his expertise to Inter after finalising his time with Juventus on Thursday.
With CEO Alessandro Antonello overseeing the business side of the club, Marotta is expected to oversee the sporting aspect, although his official title has yet to be confirmed.
During Marottas time at Juventus, the club found great success under Antonio Conte and Massimiliano Allegri, both Marotta hires, while also finalising the transfer of Cristiano Ronaldo this summer in one of the executive's final moves.
He had been linked with potentially taking up a role at Manchester United as they reportedly search for a sporting director to work alongside Jose Mourinho, but that will not come to fruition.
The addition of Marotta isn't the only big news from the Inter boardroom, though, as the club announced that Steven Zhang has been named the club's president.
Zhang is the president of Suning International, the overseas division of the group that owns Inter, and serves as a member of the UEFA Club Competitions Committee.
Zhang said: "I am extremely proud to lead this club into a new era. I feel the responsibility to satisfy the passion of the millions of fans all over the world and, I am more than ready to accept the challenge of president in this, the 110th year of this prestigious club.
"We will continue to make the sports performance the number one focus of our attention, and make sure the team has all the best support necessary to compete and be successful at the very highest levels of both the international and domestic game.
"Off the pitch, we will make Inter as strong a company as it is on the pitch. We must build strong skills in the commercial and marketing areas and further strengthen the management team."
Inter currently sit third in Serie A, two points behind Napoli and six points behing league-leaders Juve.