U17 World Cup
FIFA U-17 World Cup 2017: Is it really Under-17?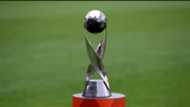 As the England U-21 registered a victory against Poland to book their place in the semi-finals of the Euro U-21 Championship 2017, eyebrows were raised regarding a few players who were fielded on the day. Four players in the team were 23 and had 170 Premier League appearances between them. How exactly did they become eligible to play for the England Under-21 side? Will the same thing happen in the FIFA U-17 World Cup in India next month?
The kick-off to the U-17 World Cup is less than three weeks away and as we build up towards the biggest football carnival ever to take place in India, here's what you need to know about the player eligibility rules for the event.
Let's start with the FIFA rules for the U-17 World Cup. FIFA's rulebook clearly states that: 
Upper age limit: all players must be a maximum of 17 years old by the end of the calendar year in which the competition is played (i.e. all players of the teams were born on or after 1 January 2000).

Since the World Cup in India starts on October 6, 2017, we can calculate the maximum age of a player who will take the field in the tournament. If a player's date of birth is on January 1, 2000, he will be 17 years, 9 months and 5 days old by the time the tournament kicks off and that means, strictly speaking, the tournament is not really Under-17.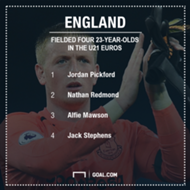 However, it must be noted that age gaps as in the case of Euro-21 Championship will not be on show at the World Cup. The reason why you won't be able to find 19-year-old players in the U-17 World Cup is due to the length of the qualification processes of both FIFA and UEFA tournaments.
For Euro U-21 Championships, a much wider age range can be noted because UEFA rules state that the players need to be 21 at the start of the year in which the qualifiers take place. For the 2017 championships, qualification started in 2015 and hence an age gap of two years can be noted.
Qualification for FIFA U-17 World Cup 2017 (CONCACAF, AFC championships etc) doesn't take place over two years and more importantly, all qualifying tournaments have set the age criteria in accordance with the FIFA rules for U-17 players, ie players must be born on or after January 2000.
Euro U-21 championship is the only anomaly here. That's the tournament wherein you can see 23-year-old players playing for U-21 sides. Luckily, India will not have to witness such puzzling age irregularities when football takes over the country next month.
Follow Nisanth V Easwar on  Twitter - @niktheblue94