India
FIFA rankings: India remain at the 97th spot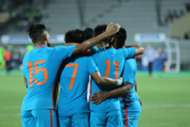 India retain their 97th spot in the newly released FIFA world ranking on June 7. Stephen Constantine's men are just two points behind 96th ranked Georgia.
Since May 17th, when the last ranking was released, India have played two international matches against Chinese Taipei and Kenya in the ongoing Intercontinental Cup in Mumbai and have won both the matches 5-0 and 3-0 respectively. They face New Zealand in their final league match today.
Among the other participants in the Intercontinental Cup, Kenya have slipped from 111 to 112 after their heavy defeat against India. Chinese Taipei too have moved down two placed to 123 now. Only New Zealand have progressed massively from 133 to 120.
India are preparing for the upcoming AFC Asian Cup 2019 which kicks-off in January. They are placed in the Group A alongside hosts UAE, Bahrain and Thailand. UAE have moved four places to 77, Bahrain too have progressed and are now placed at the 113th position. Only Thailand have remained at the 122nd place. This means that India are still the second-best side in the group on the basis of the latest rankings.
After the Intercontinental Cup, India are all set to face Asian giants Syria and Saudi Arabia In October-November as a part of their preparation for the Asian Cup.
Overall, there are only two changes in the top 10 ranked teams in the world. Poland have moved up two places to reach eighth position while Spain have dropped to the 10th position.